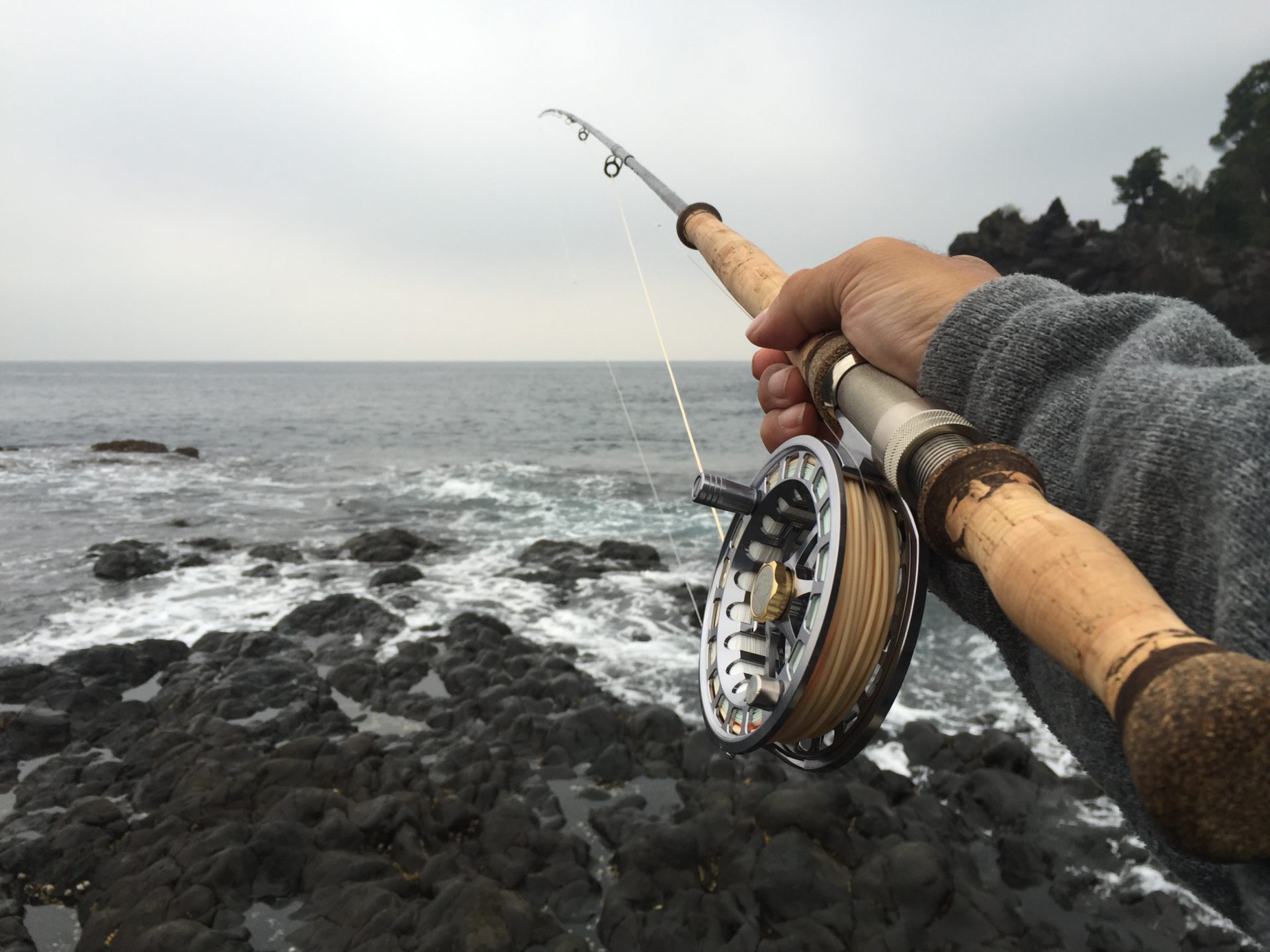 2015/11/21

Running on Waters – Ito, Shizuoka

"What do I do with 80th species on fly fishing?" That's how it started and I thought of blackfin seaperch out of limited knowledge who may come out in this high season.
So I left Tokyo around 7:00 pm heading to Ito in Izu Peninsula to be arriving ports near rocky reef coast just in time for blackfin seaperch to feed baitifish in the dark on dropping tide from the high peak.
About Ito
Ito is the largest town in Izu Peninsula located in the eastern side 2 hours driving away from Tokyo. It has lots of interesting sights and stories including blue-eyed samurai William Adams, resort house of Yi Dynasty, and on and on… That's another story another time. When it comes to fishing, I can't think of any other part within 2 hour radius from Tokyo that can provide this great variety of fisheries.
Northern part of the coastline at Usami has sandy surf with small rivers running in well known spot for flatfish. Port Ito in the middle provides variety of nesting fish and occasional pelagic fish cruising in such as dorado and frigate mackerels which you can target from both bank or hired boat. Southern part of the coast is epic rocky reef with long list of fishing histories, but most recently known to host blackfin seaperch.
There is River Ito forming full cycle of freshwater system. River Matsu in the mountains host streamborn red-spotted cherry salmon and Lake Matsukawa (rock fill dam) is stocked with rainbow trout and white-spotted char.
River Ito runs out of these headwater provide fishery for stocked red-spotted cherry salmon, ayu, and carp family fish. Estuary of River Ito welcomes blackhead sea bream and seaperches in season.
Then there is Lake Ippeki, Japan's first water to be stocked with bluegills and now holding largemouth bass as well.
You can make one fishing a day or merry go around to quench your thirst for fishing.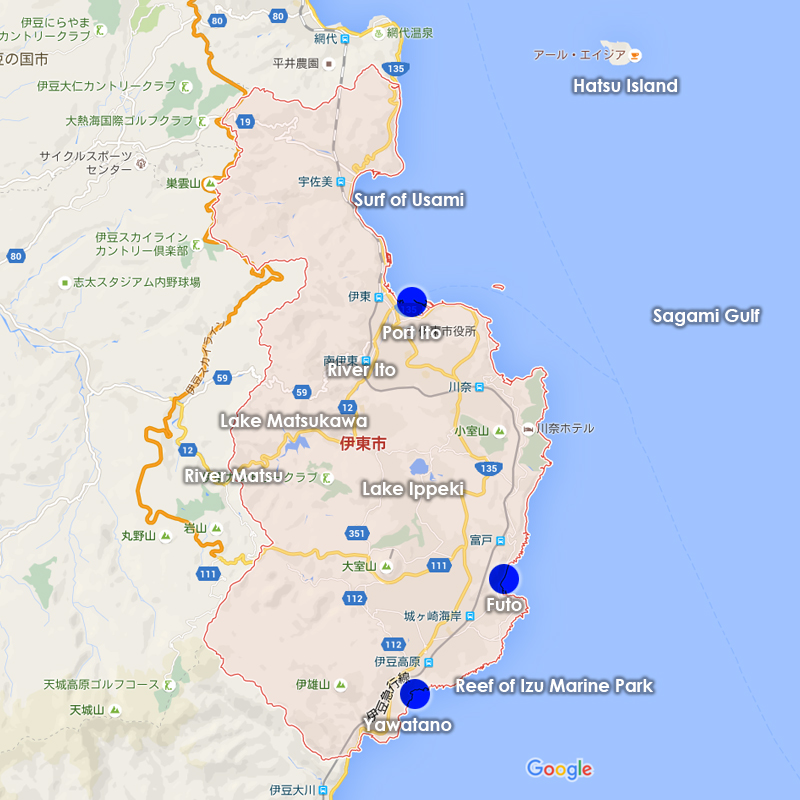 Game for Vareity at Port Ito – Part 1
90 minutes delay caused by construction work on Tomei Expressway asked for an alternative.
Instead, I stayed in Port Ito and played a little with my 4wt "smuggle" outfit before setting up car-camping. I spotted great number of small fish are rising between docked fishing boats to feed on top water lit by the street light, so I picked size 10 Crazy Charlie to do the trick. Fish didn't go after fly very aggressively, so I let on good old trick of "short strip and fall" which mimics shrimp then the fish turned out to be this surf perch who gave a  thrilling fight in between boat ropes.
Blackfin Seaperch in Rocky Reef at Yawatano
After short sleep, local police on patrol woke me up to chase me away from Port Ito as part of special high alert on all major sea ports used by military ships after the latest Paris Attack. So I moved to blackfin seaperch fishery ahead of schedule and made myself ready for the right time for tide. This fishing requires angler to fish in dark over very rocky terrain with incoming waves, so I took out my Beullah two-hand 12 feet 6 wt set up as Scandinavian style to be able to cast both spey cast or overhead with the flexibility of shooting head.  I picked Iwai Minnow to mimic bay anchovy or round herring.
Time is right and wave is still OK, but it's always up to whether fish to appear in that particular spot. I fished this part of reef extensively from dark until 9 am having no sign of predator or its bait. No luck this time.
Trout in Lake Matsukawa
Best timing for tides for saltwater game was over, but I had time to kill until the next round. This is the awesome thing about Ito that I only have to drive 10 minutes to move to Lake Matsukawa using the same Scandi tackle only replacing the tippet from 16lb to extended length of 4lb to let nymph drift naturally in water. No sign of trout feeding on surface or not very best of direction of current, but I manged to get one strike. Unfortunately fish came off the hook, but it's OK when I'm here mostly practicing spey casting.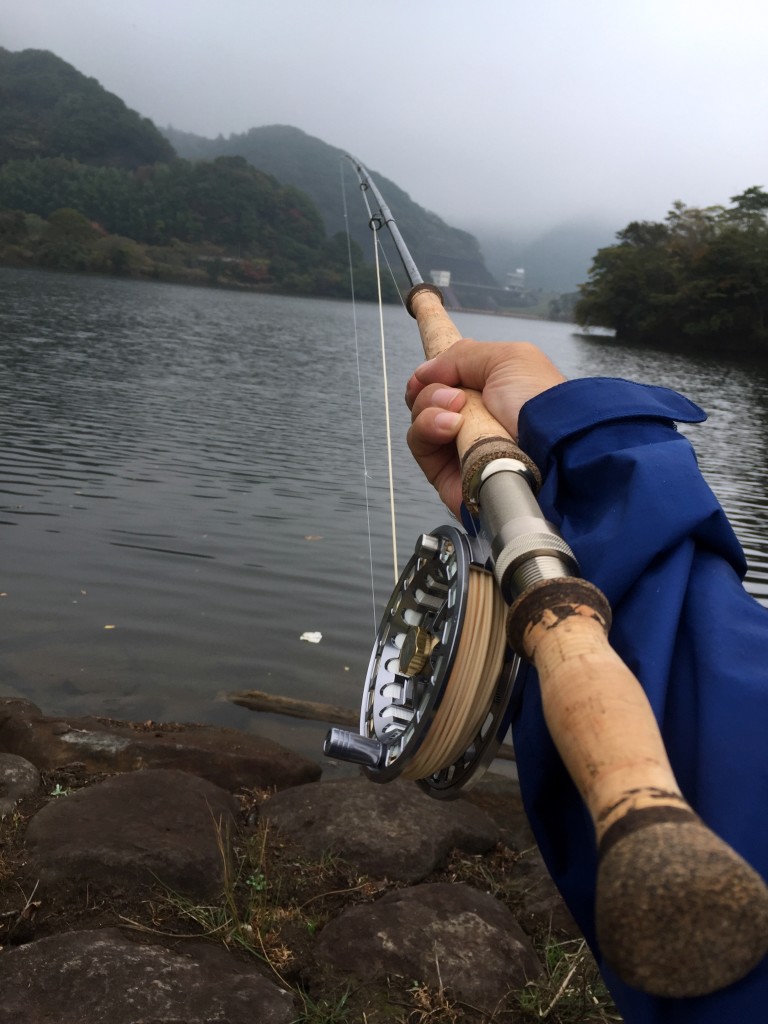 Game for Variety at Port Ito – Part 2
Rain began to fall hard, so I wrapped up and moved back to Port Ito to take a nap until next tide movement.
There is a spot where fish hide and ambush passing prey, so I took on another round with 4wt "smuggle" outfit with Crazy Charlie size 10 using pink died polar bear fur for improved visibility to fish.
First fish came out of hiding was this sunrise (Pseudoblennius percoides).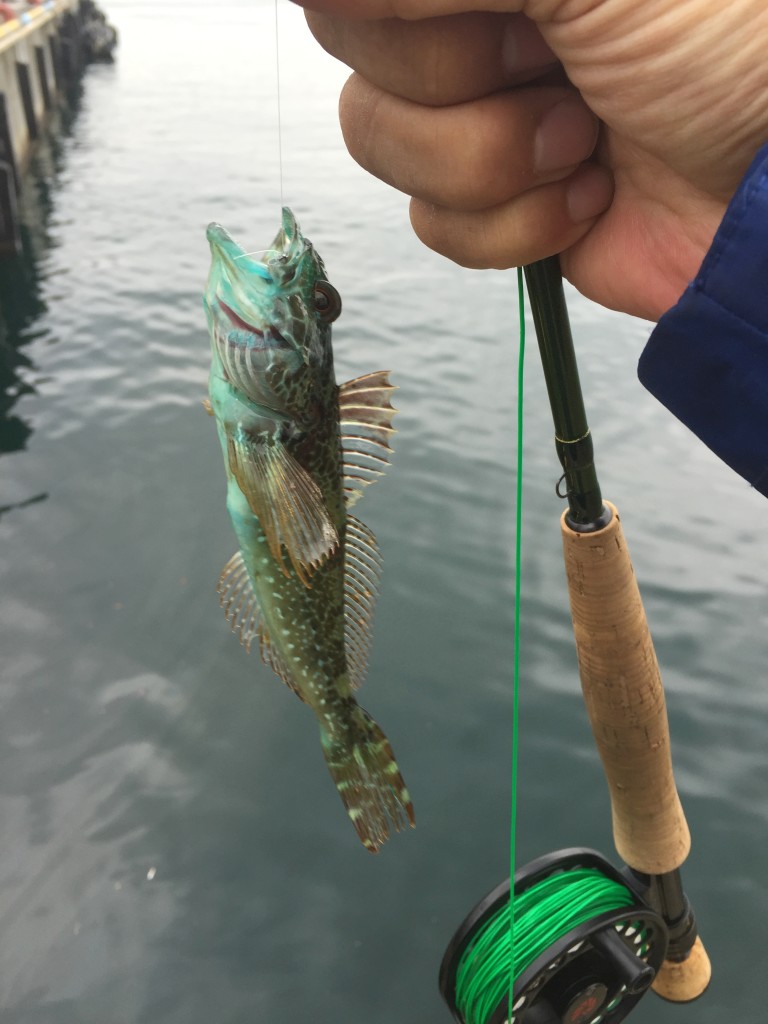 Then 2nd year black rock fish kindly came out for further excitement.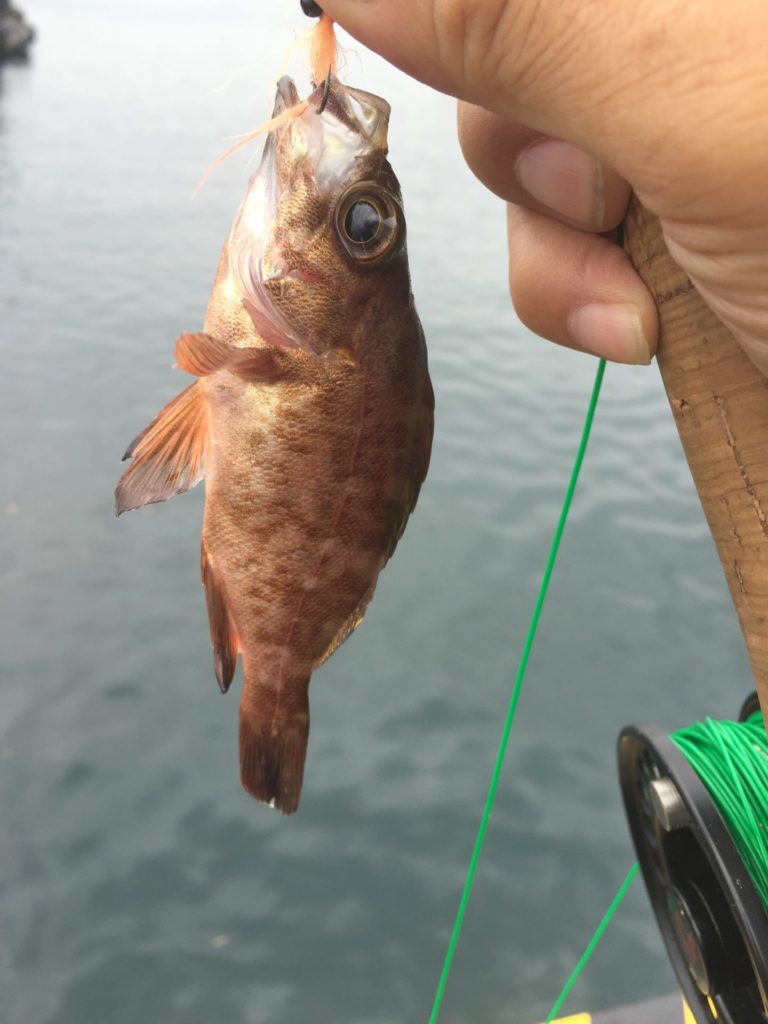 Rain turned even harder, so I finished fishing, took nice break at nearby hot spring, then head back to Tokyo.
It wasn't entirely successful trip considering targeting blackfin seaperch, so I will need to research further about the fish and come back in time.
Seasonality of blackfin seaperch is winter unlike its kin, so there are plenty of time for this challenge.
Result
Surf perch 20cm on Crazy Charlie size 10 with white marabou as wing
Sunrise 15cm on Crazy Charlie size 10 with pink died polar bear fur as wing
Black rockfish 14cm on Crazy Charlie size 10 with pink died polar bear fur as wing