2012/5/24

Yokota US Air Base – Where To Go?

There have been increasing number of inquiries from folks at Yokota Air Base in last few years, so I have prepared a starter map showing what's around.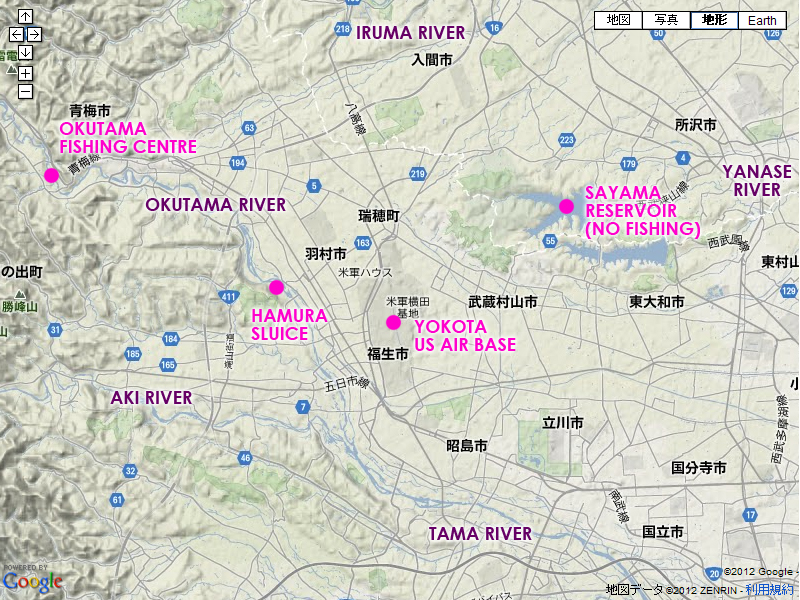 1. Tama River
In front of base is Tama River housing warmwater species such as carp and bass.
2. Aki River
Tributary of Tama River stocks trouts open from March to September. If you travel further upstream, then you will find Youzawa Trout Stream.
From Hamura Sluice to Okutama Reservoir is gin clear water housing trouts. Cherry salmon is only open from March to September, but rainbow trout is open all year. Only river near Tokyo let you catch trout on spey tackle in area between Hamura and Mitake just below Okutama Fishing Centre.
You can drive all the upstream and reach Okutama Reservoir where you can fish largemouth bass, panfish, and occasional lake-grown trout. Then you drive to the headwater of this reservoir, you can fish Kosuge River or Ootaba River for trouts.
4. Yanase River
Good clear stream forming border between Saitama and Tokyo. Good river for carps and chubs.
5. Iruma River
Well known river hosting smallmouth bass and other warmwater species.
6. Sayama Reservoir – Fishing Prohibited
Source of drinking water well protected by local government. Absolutely no fishing allowed in this water.
 Beyond the Map – Rivers in Yamanashi
If you drive on Chuo Highway, then you can go to all the venues in Yamanashi Prefecture including Katsura River and Fish On Shishidome . Further away, then you will find all the beautiful small mountain streams in Nagano Prefecture.
Beyond the Map – Lakes in Yamanashi
If you drive Chuo Highway towards Yamanashi, you can go to:
1. Lake Sagami – largemouth bass
2. Lake Yamanaka – largemouth bass
3. Lake Kawaguchi – largemouth bass & panfish
4. Lake Motosu – trout
Further Updates?
I will update lakes in Yamanashi later this year.