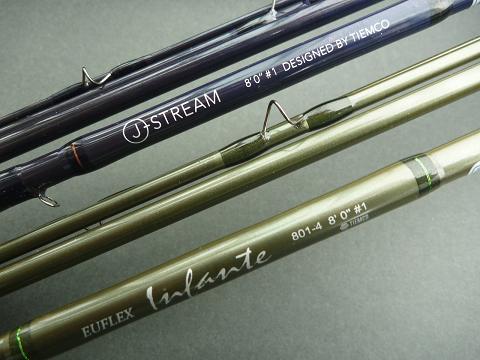 2012/4/11

Tiemco's 1wt Tackle in 2012
J-Stream is a lineup of small stream fly rod by Timeco under the brand name "Euflex". They are all designed specifically for the mountain stream of Japan who rarely ask for long cast, but require great accuracy within 5-10m range and ability to turn over leader system with long tippet who often goes as long as 18 feet long.
I've got my J-Stream 793-4 (7'9″, 3wt, 4pc) while ago, and it has been my main creek rod with great success. Mid-flex design intentionally designed not to have progressive taper won't give you the narrow loop, but great torque to turn over long leader when you lower your forward cast. Matching fly line is 3M Ultra 4 J-Stream DT 3wt which is specifically designed for this rod.
J-Stream 801-4
Now, Tiemco has added the new 1WT rod in J-stream. I have tried this rod in Sansui Shinjuku, and it was no ordinary 1wt rod. It has very soft tip with mid-flex, but not too slow. Bend is designed to occur right amount in the middle which probably release you from worrying too much about how to control your rod flex while keeping tight enough loop.
Application of this tackle? Any situation where you only cast small flies such as #32-18 which is exactly what small mountain streams are and fly fishing for little chubs in middle section of rivers.
Infante 801-4
Infante is Tiemco's line up for juniors and now sits as economic range against J-stream series.
3M Supra J-stream DWF Flyline
(From Tiemco)
Tiemco developed matching line for new 1wt rods.
Investment Summary
Rod: Tiemco-Euflex J-Stream 801-4
Price: 35,910 JPY
Rod: Tiemco-Euflex Infante 801-4
Price: 18,900 JPY
Line: Tiemco 3M Supura J-Stream DWF-1-F
Price: 7,331 JPY
*I wonder how it matches with Sage's Quiet Double Taper 1wt or Rio's Trout LT 1wt lines.