2018/1/21

Tibor Light

Tibor Light or Tibor Light CL is drum brake reel released in 1998 to deliver Tibor's vision in providing great fighting performance to anglers targeting trout, bass, and light saltwater species using from 3 to 8wt single-hand fly rods. Drum brake with ConstaLube feature applies very smooth start-up and delicate brake to protect the tippet under the stress when fish is making sudden jerks such as salmon running into main current, bass jumping hard, or bonefish making jet run.

I have personally tested this reel in the fight on tippet from 4lb to 16lb on species such as salmon in river running down fast, big heavy carp diving hard, and tarpon jumping around in narrow spots in mangroves. This reel is great side kick to save you by that few inches or feet of control.
1. Product Information
Models
Model
Size
Weight
Line Capacity
Spring Creek CL
3.00"
4oz
110 yds. with WF3F line
100 yds. with WF4F line
75 yds. with DT-3 line
All with 20 lb. backing
Tail Water CL
3.125"
4.5oz
120 yds. with WF5F line
100 yds. with WF6F line
75 yds. with DT-5 line
All with 20 lb. backing
Back Country CL
3.625"
5.5oz
275 yds. with WF6F line
250 yds. with WF7F line
225 yds. with WF8F line
200 yds. with WF9F line
All with 20 lb. backing
Colours
It seems Tibor discontinued "green" when adding new "frost" finish.
Features
Features a drag that cannot be set excessively tight – yet the spool won't over-run if you pull line rapidly from it. This prevents the fragile leader tippets from breaking.
The drag adjustment knob is more accessible than on most reels and can not catch the line.
The clutch dogs on most fly reels are held in place with springs that can fall out or lose their adjustment. The clutch on Tibor Light reels is a one-piece unit that is hard coated, corrosion-resistant and cannot fail.
Spool is easily removable and the retaining nut is almost impossible to lose. Extra spools are available.
The leader-keeper groove on the spool rim captures the leader when moving from one fishing location to another.
A clicker monitors line going out or coming in.
Made from solid bar stock aluminum and has very few parts – ensuring dependable, trouble-free operation.
Comes with an extra thick neoprene case for easy storage and transportation.
Finishes: Frost Silver, Frost Black, Satin Gold, Jet Black, Royal Blue, Crimson, Aqua & Graphite Gray
Available in 3 sizes.
Made and assembled in the U.S.A.
2. Maintenance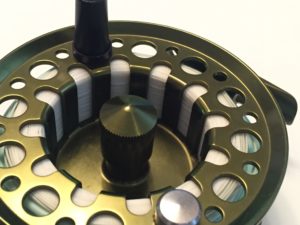 Loosen up the spool knob in counter clockwise motion.
Spool will now come off.
Spool – Ball Bearing
Ball bearing is sitting in the centre of spool. If you notice any rust, clean it with machine oil. After cleaning, don't forget to lubricate the ball baring with super low viscosity oil to keep rotation smooth. But keep the oil away from the planer disc or it will cause unwanted slip.
Spool – Embossed Area
Embossed planar on spool works as a counterpart to the revolving disc on the other side that has a notch to catch the holes on spool. If you notice any dirt or salt residue, use water and soft cloth to wipe it clean. If you spilled any low viscosity oil, make sure to clean it off so it won't effect the performance. Apply grease very thinly to protect the surface from scratch.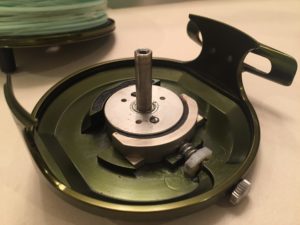 On the other side, drum brake mechanism is exposed. Brake caliper is pressured by the spring that can be adjusted by the screw located outside of the reel.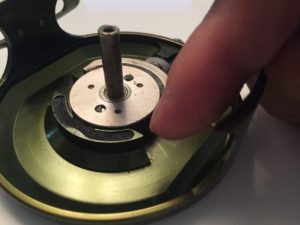 ConstaLube
Check and see if the felt is not dried up. Apply "Tibor Lube" (NOT Tibor Graphite Lube) until you confirm lubricant is well-absorbed into the felt.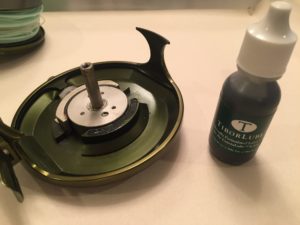 Make sure you use the correct lubricant for the best performance.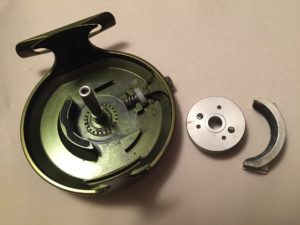 After a full season of use in saltwater or dirty environment, it is recommended to give protective care on the drum brake.
Brake Caliper
Check the inside surface to check for damage or excessive wear. No need to lubricate this.
Rotation Disc
Check the disc to see any damage or dirt/salt residue.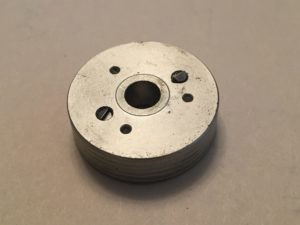 This side is up facing spool.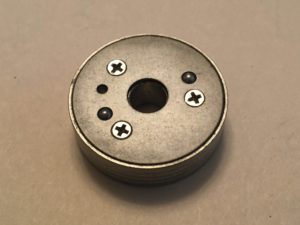 This is down facing the reel.
3. Change LH/RW Orientation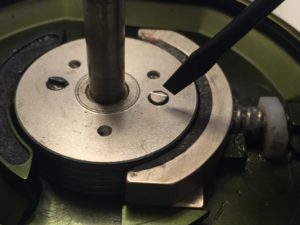 Locate the rotation disc and 2 clutches. Factory default is LH. Use small screw driver to turn both clutches 180 degree to change the orientation.