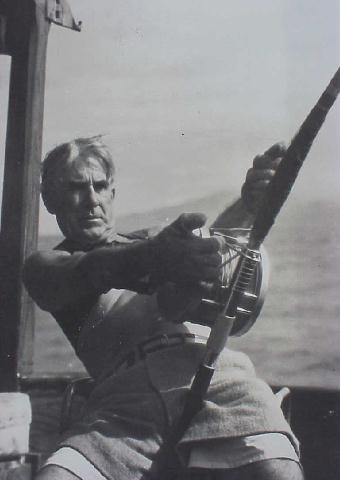 2011/10/8

Hardy Zane – Saltwater Outfit
Zane Grey, an American writer, enjoyed his time in extravagant lifesyle filled with early day game fishing. Also winning numerous IGFA records, as he was one of the founding member to establish international game fishing scene, Zane's a name remembered in both literature and game fishing quite like Ernest Hemingway.
His taste in fly fishing was mainly for steelhead in North America and brown trout in New Zealand, yet his worldwide fishing pioneering inspired many fishers who followed his path in light tackle games against big target which eventually resulted in challenge by fly tackle. Zane is also an inventor of "teaser" system in offshore fishing.
Hardy released its saltwater fly rod and reel in 2008 after the name of Zane to commemorate their relationship with the fishing legend and demonstrate their vision in the sport. I picked up Zane 12wt combo while ago for offshore game as lucky charm.
Hardy Zane Saltwater Fly Rod

http://fly.hardyfishing.com/en-gb/products/flyfishing-rods/performance-rods/zane-saltwater/
– 6, 7, 8, 9, 10, and 12 wt
– All 9 feet rods, 4pc
– Fuji Sic strip guides
– Double locking reelseat with nylon washers
– Neoprene coverd rod tube
–
–
Hardy Zane Saltwater Fly Reel
http://fly.hardyfishing.com/en-gb/products/reels/performance-reels/zane-saltwater-reel/
– No. 0: WF7 + 150m
– No. 1: WF8 + 200m
– No. 2: WF10 + 300m
– No. 3: WF12 + 400m
– TI (titanium finish for NO.3)
–
Drag & Knob
Hardy Zane reel comes with concealed drag with quite large drag knob that enables angler to quickly change the setting with slippery hand.
My Zane reel shown here is No.3 that has met good amount of actions in offshore game for tuna and dolphinfish. I have noticed one not so great thing about this reel is that it doesn't give as smooth adjustment of drag as Tibor does. Tibor Gulfstream, for instance, give you 3 circle rounds of tightening drag while Zane gives you about 2 rounds that's a design commonly found in inshore 8wt fly reel. This is not a big deal for anglers who just want to enjoy what's fighting against this reel, but for serious some who wants to quickly stop the fish.
[youtube=http://youtu.be/d6grvXIbJVA]
By the way, Hardy is preparing next saltwater line up with Sintrix series, so look out for good deals on Zane line up, if you want them.