2018/1/20

Bauer Mackenzie Superlite

Bauer discontinued its Mackenzie Superlite series in 2016 and all information seems to be deleted off their website. This post is to provide information for the owners to find information and maintenance resource easily.

Mackenzie Superlite is a improved version of its predecessor Mackenzie by reducing the overall weight of the reel without compromising its ability for smooth start and sure drag. What's best about Mackenzie is this star-drag facing the same side of reel handle making it ideal to adjust drag tension while fighting fish without switching hands. This feature is very helpful when you are using this reel on rods lighter than single-hand 6wt with sensitive tippet such as 6-8X when small mistake makes big difference.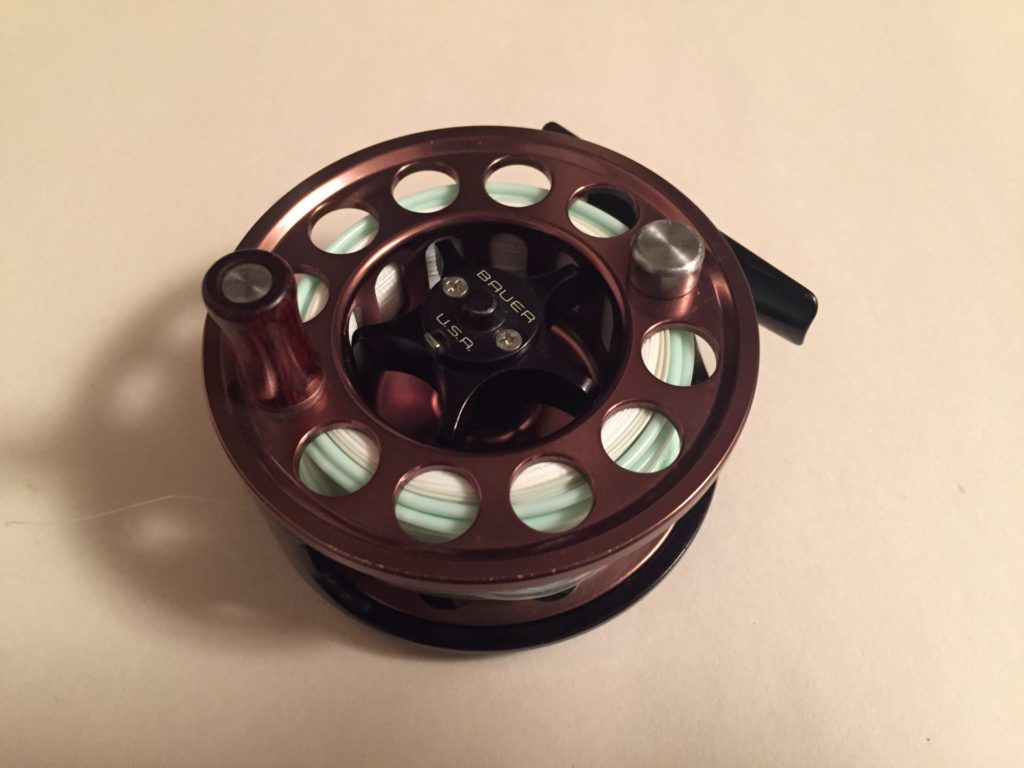 1. Product Information
Models
| Model | Size | Weight | Line Capacity |
| --- | --- | --- | --- |
| M.5 | 3.00" | 3.5oz | WF3F+70 yds(20lb) |
| M1 | 76mm | 123g | WF5F+55yds(20lb) |
| M2 | 83mm | 137g | WF6F+100yds(20lb) |
| M3 | 95mm | 190g | WF7F+150yds(20lb) |
| M4 | 101mm /3.75" | 202g/5.7oz | WF8F+225yds(20lb) |
| M5 | 4.00" | 6.3oz | WF9+225yds. 20# |
| M6 | 114mm | 269g | WF12F+325yds(30lb) |
| M7 | | | |
Colours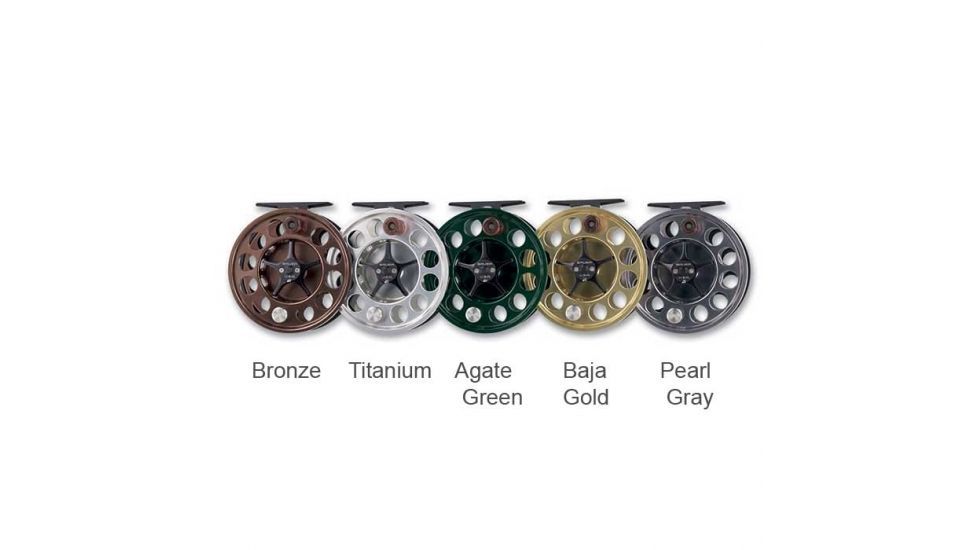 Features
Precision machined 100% aerospace bar stock aluminum and stainless steel construction for maximum strength and corrosion protection
Three precision sealed stainless steel ball bearings
No plastic parts or bushings
Large diameter Cork/FXB polymer disc drag delivers a ultra smooth and low start-up inertia
Patented seamless drag clutch with "zero-backlash"
Easy one finger, star drag adjustment
Silent retrieve with a crisp out-going click
Quick release spool
Simple retrieve direction conversion
Exposed palming rim for additional control
Deep anodized, Jet Black polished glossy finish
Fully ported frame and spool
Hardwood crank handle
The lightest reels in their class
Designed and Manufactured in the U.S.A.
Lifetime guarantee. U.S. Patent #5921492
2. Maintenance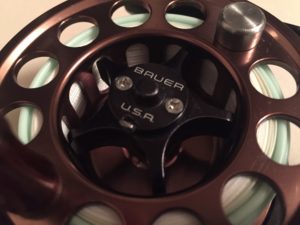 Loosen up the star drag knob in counter clockwise motion.
Press the hinge button underneath the word "USA" which will release the knob from the spool shaft.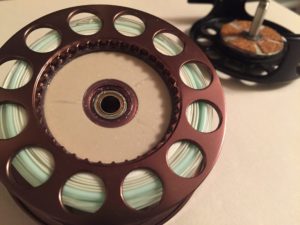 Spool will now come off.
Ball Bearing
If you notice any rust, clean it with machine oil. After cleaning, don't forget to lubricate the ball baring with low viscosity oil to keep rotation smooth. But keep the oil away from the planer disc.
Planar Disc
Made of PTFE (Teflon or Rulon?).  This disc works as a counterpart to the cork disc on the other side to form a brake. If you notice any dirt or excessive grease, use soft cloth to wipe it clean. If you spilled any low viscosity oil, make sure to clean it off so it won't effect the performance of drags.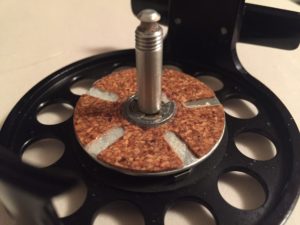 Cork disc is exposed.
Cork Disc
Check and see if the cork is not dried up or there is any dirt (or salt if you use this reel in ocean).
A) User low viscosity grease, such as Shimano reel grease, for lower weight models
B) Use grease for the cork disc for higher weight models
Shaft
Apply low viscosity oil thinly to protect and smooth up the shaft.