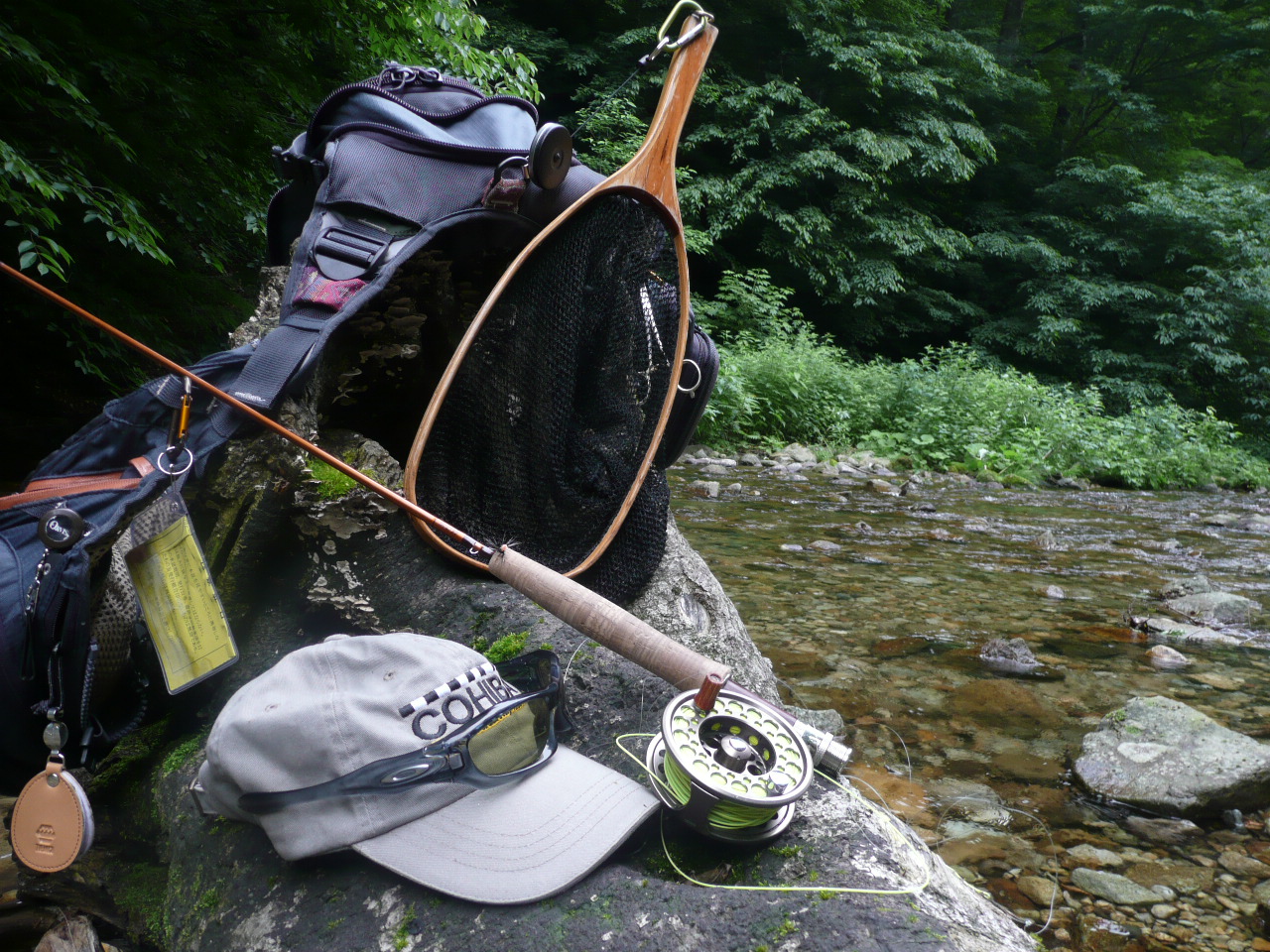 2013/8/28

Fly Tackle for Mountain Creek Trout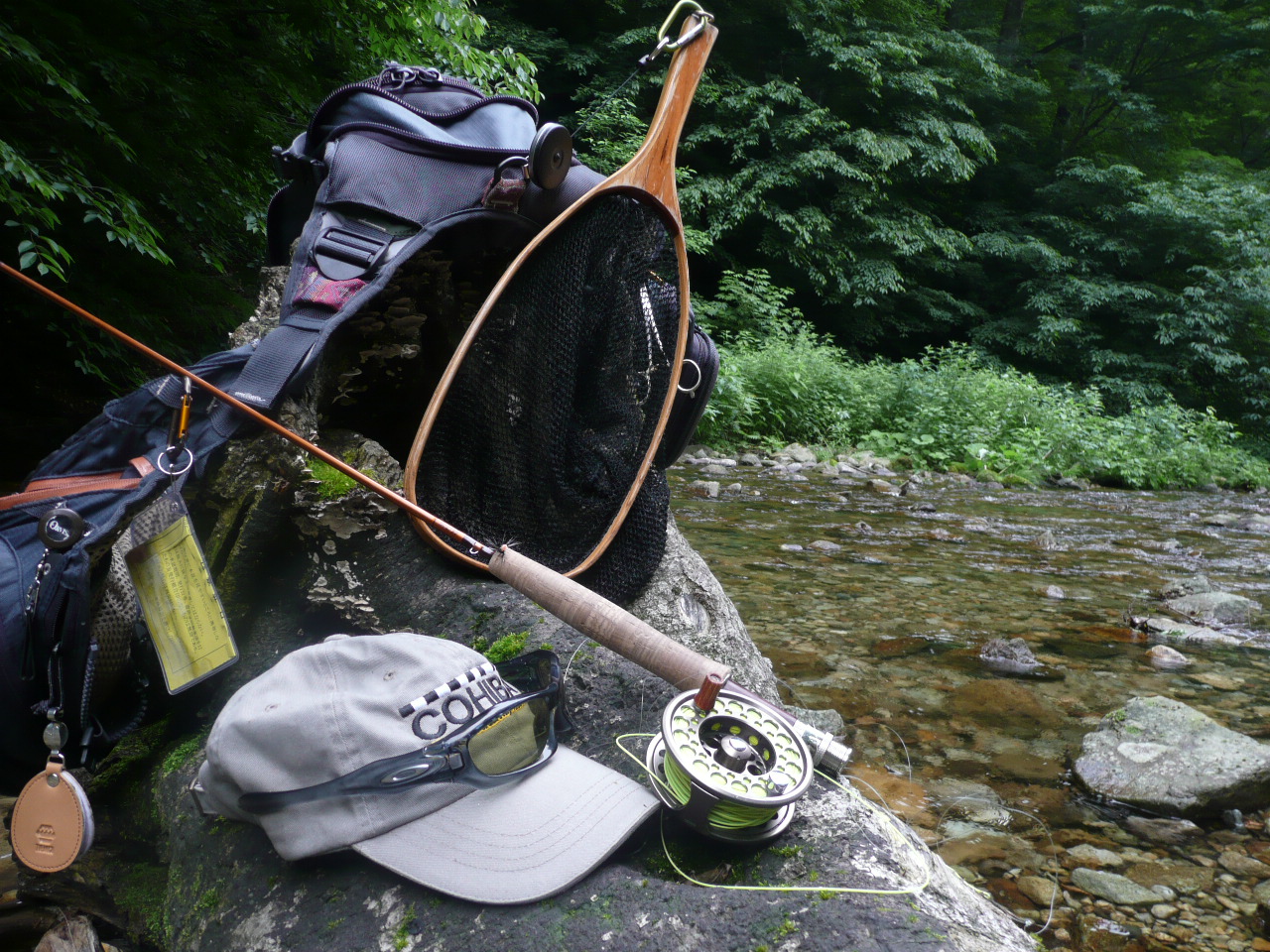 Once upon a time, Japanese mountain creeks covered in deep forest were only meant to those who dared to venture with hand rod or tenkara rod. Everyone thought western fly fishing was made too loud, too big, and too slow to catch the misty iwana who was believed to sense the approaching anglers and to catch the mighty yamame who was believed to attack and refuse an artificial fly in 0.1 second.
Someone brought short rod, medium flex for slower line speed, and soft tip action that can handle small game in close combat. More iwana was caught by this fishing. But then came the time that no one believed that drifting #18 size fly in complex lanes within stream was possible for inexperienced anglers. Yamame was too sensitive and you need to master the perfect reading of the water.
Someone brought 18 feet long slow-taper-extended-tippet leader system and break through casting/presentation methodology which allowed longer natural drift over complex stream. Yamame was brought out of myth and became the number one target fish in Japanese fly fishing anglers.
1. Factor: Sensitivity
This game was originally dominated by non-fly line tackle known as Tenkara. So, ultimately you can make the best fishing with "0" wt fly tackle which has no fly line but a leader that does not produce much disturbance on the surface of water or drag on fly. OK, we can't have that as different school of fly fishing anglers. So the starting point is 9 feet 1wt tackle.
2. Factor: Manoeuvrability
This is a game when distance is not required, but good casting skill is required. What does that mean? It means the fair amount of kinetics created by your good cast needs to be consumed purely into the manoeuvrability of your fly line to control and turn over long leader system forcefully while keeping the whole thing out of getting snagged in branches of trees.
For this, you need to tweak up the line weight and at the same time have clearance on the headroom. Now it is adjusted to 7 feet 2wt to produce that kinetics. If you are capable of superb casting, then you should stay on 1wt to maintain higher sensitivity.
3. Factor: Depth/Wind
Fishes in these environment don't require sinking line, so no change there.
Mountain creek runs on the deepest part of V-shaped small valley. This valley happens to run along the ridge of mountains and very likely to become occasional wind tunnel, if there is one or more open hole where trees are chopped off by lumberjacks and transformed into wood using the best wood splitter there is. Now the tackle can be adjusted to 7 feet 3wt. If you don't mind waiting for wind to calm down, you better stay at 2wt for more sensitivity.
4. Tackle Setting
Fly Rod
7 feet, 3wt (1-2wt for experienced anglers)
Mid flex or slower action
Fly Line
DT 3wt (1-2wt for experienced anglers)
Floating
Fly Reel
Any reel that can store above fly line with backing of 20lb daklon x 50 yards
Leader & Tippet
6 feet of 30lb nylon for butt section
2 feet each of 16lb -> 8lb -> 4lb fluoro carbon for tapered section
6 feet of 2lb nylon for tippet
You can buy pre-made knotless leader labeled as "LDL" or "18 feet" for this method.
If you feel the leader system is far too long to handle, then trim off from the butt section which is serving as "transparent extension" of your fly line for extra chance to win sensitive game.
5. Variation
If you are fishing deeper water using weighted nymphs with or without strike indicator, then tuning up the tackle into 8 feet 3-4wt is an option, but I believe you can use the above tackle with few adjustment. If you are fishing mixed terrain of valley creek and open creek, then you should choose stiffer 3wt made by American brands or beef up to slower action 4wt.
Otherwise, this is an ideal field for you to bring your ultra light bamboo fly rod.