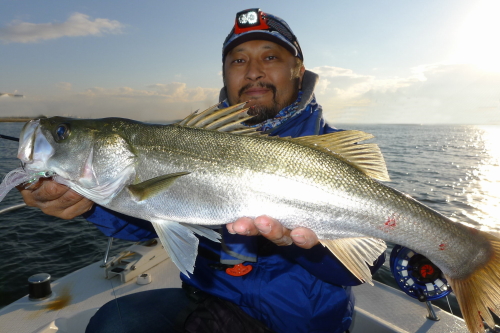 06 Nov

Boat Seaperch – 19 Fishes Caught & Released, Yokohama

Posted at 09:44h

in Uncategorised

It was very tiresome week from work and I wasn't sure why I got up so early driving down Tokyo Metropolitan Motorway around 2:45am. Only reason is seaperch in high season.
Warm Up at Boiling Fish

We left the dock around 3:30am and started out with warm-up night game hitting hot spot where perches were boiling for baitfish. I wanted to get used to my new Scott Tidal 8wt with type VI sinking line, so I kept on fishing there catching about a dozen small size perches using experimental streamer pattern which I didn't use much in my last trip to Sakishima Archipelago. Scott Tidal is very smooth rod easy to cast and provides great sensitivity when making presentation.
Streamer Game with Fish Hiding in the Shade
After we grew bored of easy catch & release of boiling fish, we moved to NK Platform, home of big perches in high season. One of my cast went into prime shadow spot where ranker size fish tends to hide, then the fight began. This clever big fish kept diving deep underneath the boat where he felt the least tension of the leader. It is not good idea to let fish go under the boat where hook is most easily come out, so I tried to lead the fish out by applying rod tension to left and right as I always do. However, I forgot I was using Scott Tidal that does not have that extra lifting power as my Winston Boron II MX has and the bending flex of the rod didn't make good match with my Nautilus CCF reel whose drag didn't do much with this particular fish who is heavy, but no speed to go left or right.
After 4 times of diving deep with very slow heavy head shake, hook came out and big fish got away.
Floating Line Game with Fish Hiding in the Structure
It became bright at sunrise, so we switched location to canals for floating line game.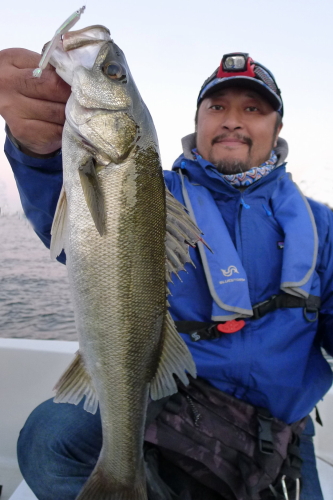 Streamer Game with Open Water Fish
Final game was bit demanding, but casting streamer for fish cruising in open water at the mouth of river.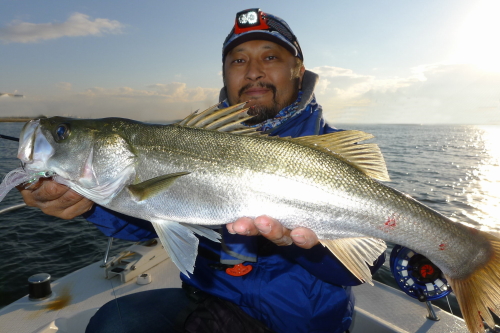 Tackle
1) Fast Sinking for Streamer
Rod: Scott Tidal 8wt
Reel: Nautilus CCF 8wt
Line: Scientific Anglers Striped Bass WF8S Type VI
2) Floating for Top Water Minnow 
Rod: Winston Boron II MX
Reel: Tibor Everglades
Line: RIO Mainstream Saltwater WF8F