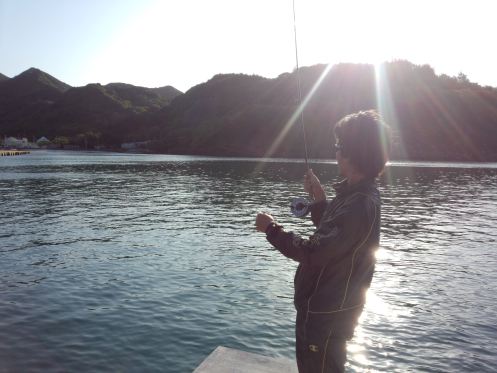 2013/5/9

Ogasawara Archipelago, Tokyo – Day 9

Morning started with meeting Gen-san, local master angler who has record catches on bluefin trevally, amberjack, and dogtooth tuna. He has been curious about me fly fishing in the past few days, so I took a pleasure of introducing him a little about fun of fly fishing.
1. Spot in Port Oki
He and I walked over to the corner in the dock where jetty had a opening underneath to let fish hide and come out freely. There I caught a queenfish of descent size on mikura candy. Catching cruising fish such as queenfish is a really good sign that this spot welcome many species. Gen-san explained to me that this port is the single most efficient place to fish. I strongly agree.
2. Snorkeling the Water of Haha Island
As seeing Gen-san going back to his work, I moved on for a snorkeling tour booked at Club Noah from 9am.
Club Noah is the only diving shop who produces variety of marine nature tours and the one I joined took me out for dolphin/whale watching and snorkeling on uninhabited small islands around Haha Island. Water is still too low around 20°C, so we geared up with wet suits.
No luck meeting any dolphin or whale, but boat took us 2 spots for snorkeling. Clarity of water is simply amazing and unharmed natural beauty awaited underneath the surface.
And I spotted large spangled emperor at both locations. Not as abundant as in Okinawa, but it must be the temperature of water too low for them.
3. In the Village
Later on, young people of village invited me to drink under the banyan tree in the centre of village which is a social place for villagers. Talks, stories, and on and on. Then all the sudden, children were having some excitement. It seemed that there was another visitor to the tree.
Wondering blue sea turtle was trying to nest on the busy beach.
Result of Fly Fishing
– Doubledotted queenfish x 1