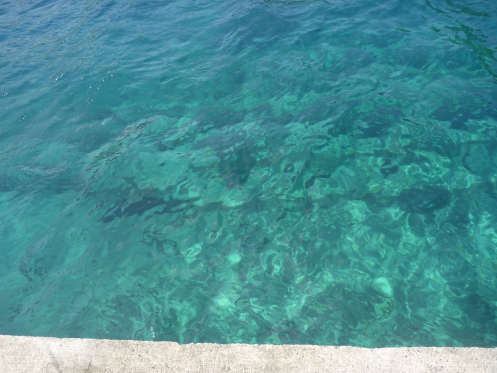 2013/5/6

Ogasawara Archipelago, Tokyo – Day 6

Weather got warmed up which can be a prospect day for fish coming into shallow for feeding, so I have decided to conduct further research on coral shallow at Higashi Harbour.

1. Jetty at Higashi Harbour

First, I checked the clarity of water which has gone complete crystal clear with plenty of sunlight. I could see the bottom of 5 meters deep. Perfect condition for shallow game. But before that, I had to test the fishing from jetty with 2 patterns I have been developing since I got to the island. I spotted and caught a few good size Japanese barrracudas (Shame I didn't take the photo for I thought I would come across them easily…). Also, I have experimented my new simple marabou fly tied in drop shot rig to see if that works with non aggressive feeders. Fish got really closed to it, so I had no doubt they will take it if they are turned on in more active feeding mode.
2. Shallow Reef in Higashi Harbour
Then I began scouting shallow reef inside the harbour. Bottom is a mixture of coral, pebble, and sand. I saw few scampi and reef fish chasing them. Perfect dining table for fish coming in on rising tide.
As I was coast trekking from the start to the end of reef, I felt the water is quite warm, but I did not spot any sizable   reef fish including bonefish. Apart from distraction from the WWII vestiges, I kept my attention on water.
This can't be right. There has to be good size reef fish in the shallow under this circumstances, if I were in Okinawa or Hawaii. Then I found out why.
It has become a camping site for white tip reef sharks. No bother…
3. Re-thinking in Village
As long as sharks are in the shallow, there is no way other large reef fish would come into shallow for competition. So, I've decided to drive back on road to the village.
Back at my favorite chill out spot while looking at the road sign showing directions to islands from Guam to Hawaii, I was thinking about being on the wrong island wrong time of year.
Now there is no doubt that my strategy needed to be altered. First thing first, I must find alternative way to have good time. So, I set up beach side tying bench.
After all, it is not good time for shallow sight fishing and I have been lodging in probably the best harbour for cruising fish. In that case, I needed to complete selected fly patterns and rigs, and have good time without fishing.
Starting with setting up temporary dining space backpacker style with refreshment and music.
I was so preoccupied with fishing and nearly missing the island itself. Now I have switched off into relaxation.
To capture what it's like: