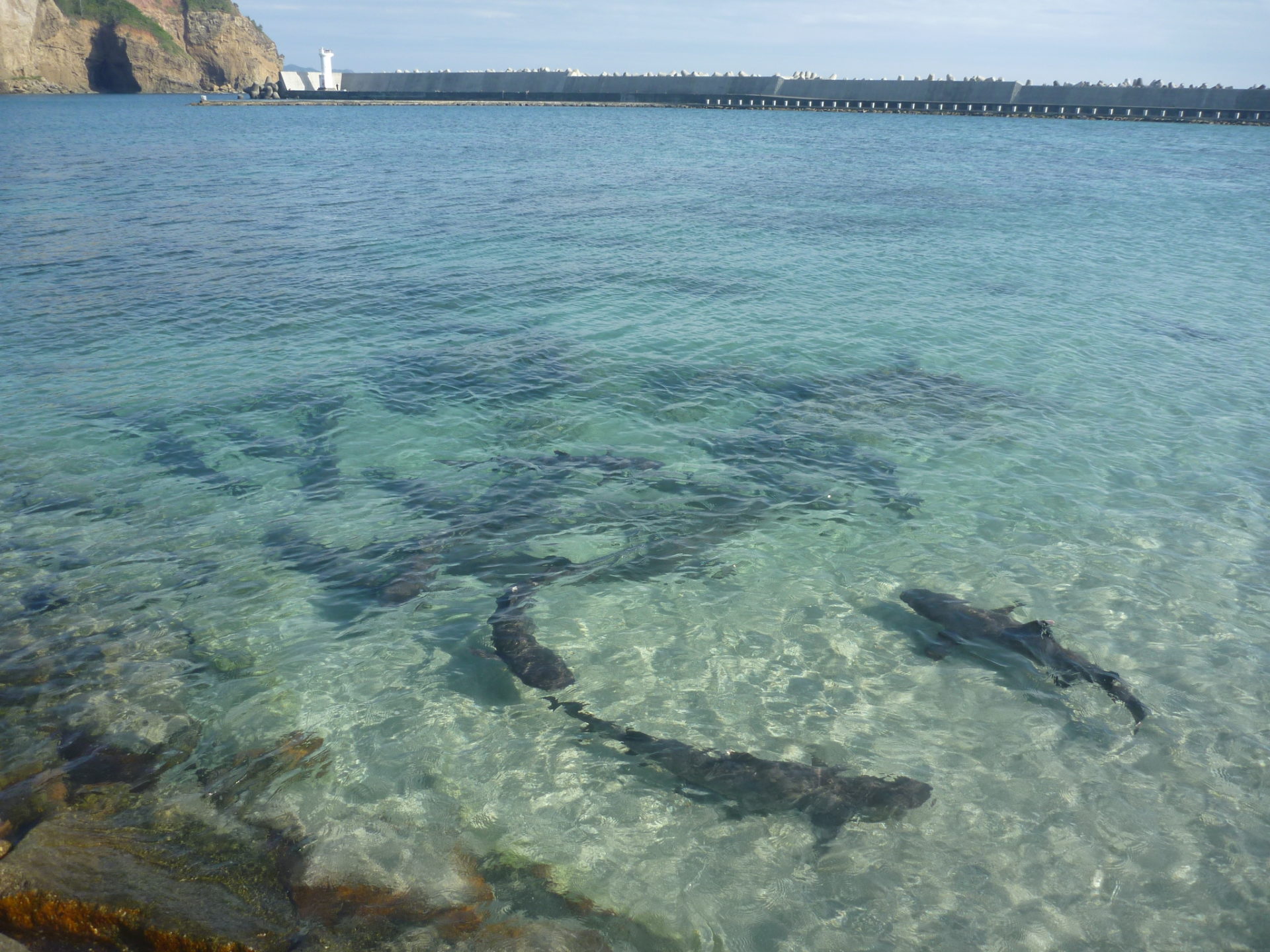 2013/5/5

Ogasawara Archipelago, Tokyo – Day 5

I had to change lodging from full service Nampoo Lodge to nearby youth hostel to save budget which left me only early morning for fishing this day. On this round, let me give you better picture of Haha Island and her coast.

1. Wild Life in Haha Island

On Haha Island, all residential area is concentrated near Port Oki with population of 700 which leaves the rest of island uninhabited to form wild life sanctuary. Also, the entire archipelago is designated as United Nation's world heritage. These facts combined limits  where you can go about freely. For instance, any road not labeled for footpath requires a guide to escort you. Coast in the south between Port Oki and Otona Beach are prohibited area for fishing to protect nesting ground for marine species.
2. Trail to Nishiura Beach
Unfortunately, this knowledge came after I consulted with office of tourism on the island in the afternoon, so I went to the trail leading to Nishiura Beach with no hesitation, because I see footpath nicely made there. *You need a guide to go "off trail" in this protected area.
I followed the obvious footpath on my handy GPS device and walked down few difficult spots for about 15 minutes.
Then came across an area used as barracks in the WWII period. You see cookware used by soldiers and machinery of war abondoned all over the place.
As I walked, I saw lots of tunnels and mortars in this area. This place must be coastal outpost for key defense district. Bit spooky to walk through this "graveyard" really…
Then path opened for secret beach.
This is where I just came from. Last few minutes of walk was through heavy vegetation. No wonder guide is required to access this area.
The beach was hosting variety of reef fish. I spotted a school of small baitfish, so I positioned myself to the downwind side of the reef where I would expect predator to corner baitfish. When I cast my streamer big yellow-edged lyretail followed it all the way to the end. Much like pike following lure slowly over long distance. This fish or his kin later began feeding on small baitfish on the surface making large noise that echoed in the entire beach area. These big lyretail must be the king of this hidden beach.
When the blitz ended, sun was rising high and there was no more sign of predatory activity. I caught a small honeycomb grouper then I needed to pack up for new lodge, so I finished fishing then.
3. Back to Port Oki and Wakihama Beach
I discovered that I have just broke little local rule when I got back to the village of Port Oki, so I have given up fishing for the rest of day for nature watch. There is one particularly interesting spot in Port Oki where they constructed white sand beach. This is what it looks like.
Amazing sight, isn't it? School of white tip sharks gather in spring time for mating in shallow where water is kept warm and food is plenty. There were about hundred or more sleeping, cruising, or chasing baitfish in shallow making fly fishing in shallow bit chilly.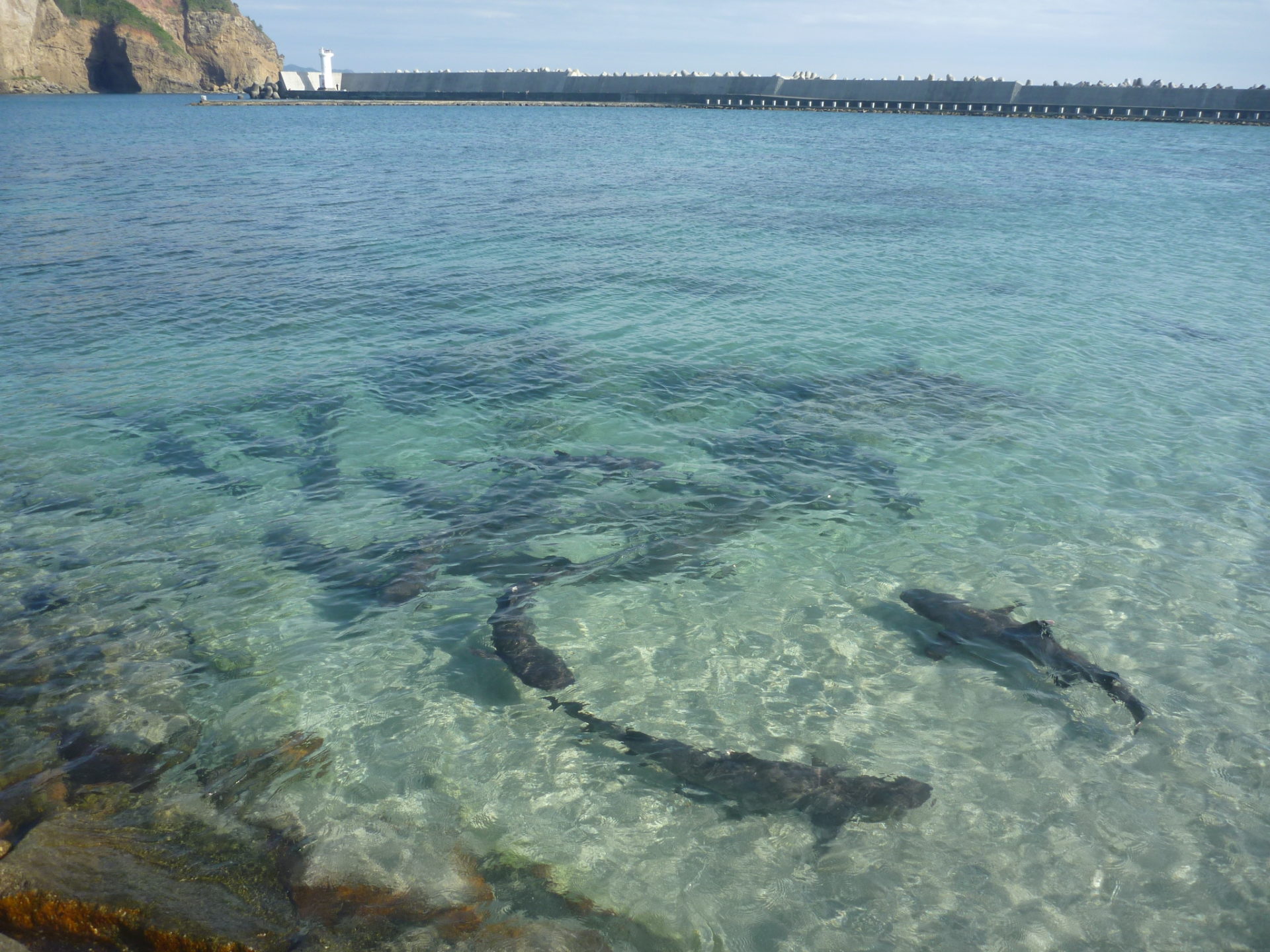 Result for Sighting:
Yellow-edged lyretail x 2
White tip sharks x so many
Result for Fly Fishing:
Honeycomb grouper x 1