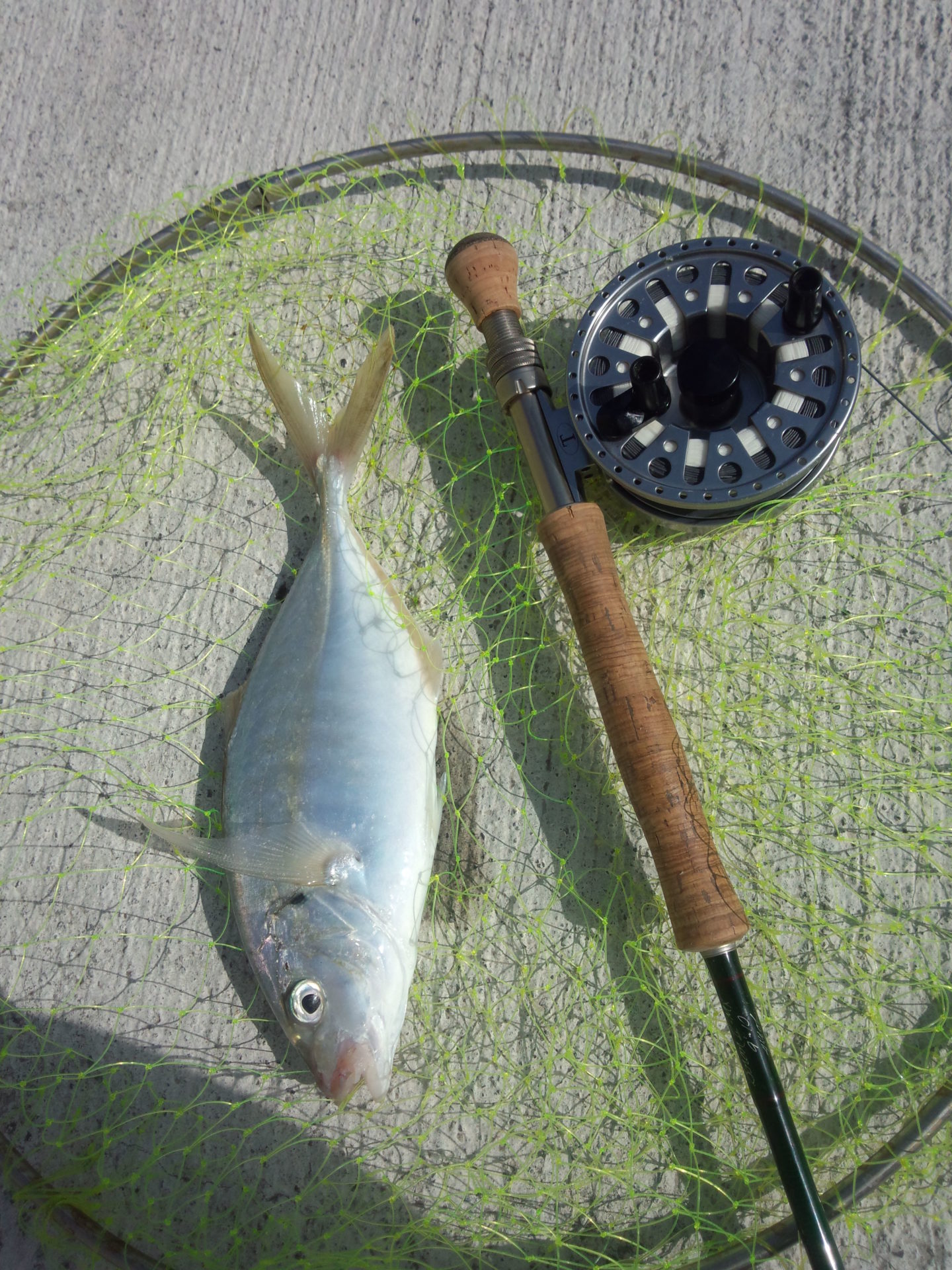 2013/5/10

Ogasawara Archipelago, Tokyo – Day 10

Remaining time on Haha Island was now numbered. So I had to focus on the most productive area, Port Oki. For possible big fish, I set up two-hand 450 grain switch rod with sinktip line. For more hands on fish,  single-hand 10wt with type IV.

1. Fishing in Port Oki

Very first catch was my all time friend: blue cornetfish. I have been catching this guy throughout my life in Guam, Hawaii, Philippines, Okinawa, and now Ogasawara. It's peculiar looking fish, but fun to watch the process of hesitation before making final strike on fly or bait.
Then familiar bigeye scad. This fish is much like trout who only chases fly swim in the matching depth except they fight hard til the end.
As I was making constant catch, resident brown booby came down to wait for his share. This funny guy kept looking at me and net back and fourth to communicate his message to me. Unfortunately, slow-style of fly fishing didn't impress him too much, so he flew away after a while.
Then I moved to the same spot I fished yesterday for queenfish. After careful prepration, fish begin to come out of hiding. None attacked minnow type fly, so I switched to experimental marabou rig. Then I caught white trevally.
It was bit difficult to land this fish for it fought hard at the same time 3 white tip sharks were after him. Then I caught another one. I first mistook this fish for bigeye trevally, but white trevally has this distinct mouth that extends a bit.
Fight with these fish excited all fish in the area including sharks, then one shark snatched my third trevally immediately after it got hooked. Then I added one more fish: pacific drummer.
2. Trail Walking
It got very hot when sun came out full, so I stopped fishing and went off trekking on the trail.
Set of iPod and headphone playing back happy tunes helped me walk through remains of the WWII as they all looked spooky. Imperial Japanese Navy 12cm anti-aircraft gun is not so challenging.
But old barrack with very functional door and dark interior are something rather not happy to walk into. It was quite spacious inside though. Probably worth converting this barrack to a storage for… rum produced on this island?
3. In the Village
Haha Island provided a great collection of herbs and vegetables, so pasta dish has become the main course. Herbs and vegetables used for Italian food are amazing probably due to the warm climate and dry soil. Great parsley, tomato, and red pepper.
Good to have a travelling friends at youth hostel and to have great selections of beer at the local stores, Orion beer of Okinawa meets tasty dried smelt from Hokkaido. Really quality dinner time.
Result of Fly Fishing
– Blue cornetfish x 2
– Bigeye scad x 3
– White trevally x 2
– Pacific drummer x 1