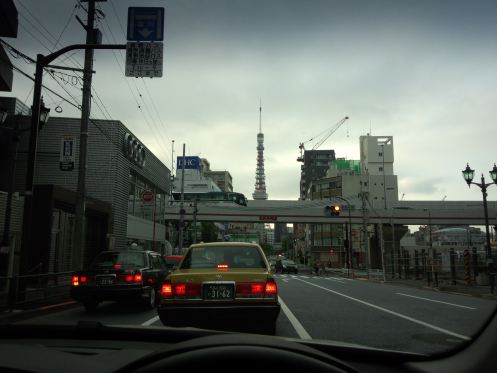 2013/5/18

Fly Fishing Islanders

I got reunited with Gen-san, my friend from Ogasawara, to take him out for fly fishing.

1. Picking Up from Hotel near Takeshiba Passenger Terminal

Gen was staying at the hotel adjacent to the pier for Ogasawara-maru. Funny that  the road I was driving was the same road I drive on Sundays to go to my church near Tokyo Tower. I now realized how easy it is to access to the Port of Tokyo.
As I got there earlier, I looked around for a good scenery. Takeshiba is next to Hamarikyu Garden which provides this gorgeous waterfront view.
2. Fly Fishing at Fish On! Ozenji
We have picked up our breakfast in Roppongi, got on Metropolitan Expressway off Shibuya, then got off Tomei Expressway at Kawasaki. We arrived at Fish On! Ozenji around 8:30.
Gen had practice casting fly tackle when he was little and quickly picking up the basic of casting to form good loop from the beginning.
As soon as agreeable cast is formed, Gen caught a trout. I realized I forgot to bring net or tell him how to land the fish. He went all the way to catching leader then fish broke away. Completely my fault… 
Condition of fish was exceptionally difficult. Chironomid were hatching , but fish were feeding in subsurface. We had only few strikes and had to wait for hours for another strike. Just before our ticket expired, Gen managed to catch his first fish on fly. By that time, he had enough rounds of fly casting and became really good at comfortably casting 15m range on 5/6wt fly line.
3. Branching of Tokyo Fly Fishing & Country Club
Gen caught one fish and have solid basic casting. Mission accomplished and I gave Gen my 5wt tackle as a gift so that he can continue to practice and enjoy fly fishing on the island. In return, he will report what fish are available there.
It's truly amazing that we now have this friendship being in the same Tokyo 900km apart. Let's see what we hear from him!