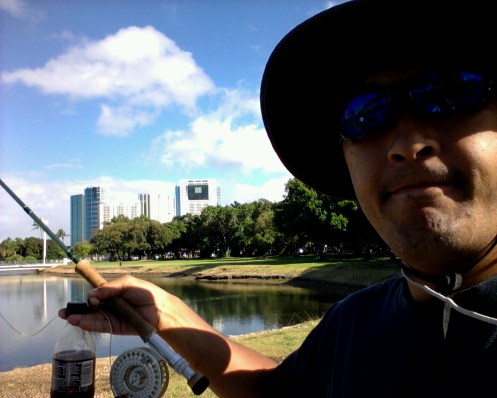 2013/6/22

Fishing in Oahu – Easy Fishing on Foot

Welcome to the soulful part of this article.

To my belief, fishing are divided into 3 parts. One that demands the best of your ability under the set of rules: sports. One that provides recreation and good dinner: good old fishing. And finally one that simply puts you in a position that you are free child unleashed into the world full of playful toys: playing.

Taking fly rod into cross sections between nature and urban establishment while sipping off pet bottle of Coca Cola Zero and eating Chinese takeout is definitely the last one and I show you what you can do in Oahu.

1. Alamoana Beach Park

Alamoana Beach Park is located conveniently next to Waikiki and you can engage with all sorts of activities including fishing. First place you can go is the pond filled with brackish water housing tilapia, barracuda, and sometimes small trevally.
Another spot is at the side of Magic Island where shallow reef is formed. You can play with familiar species such as cornet fish or lizard fish.
You do see bonefish here in early hours when not many people are out there scaring  it away, but only on very low tides which only locals can manage. I wouldn't bother.
2. Beyond Waikiki Beach to Diamond Head
Area harvests many fish including bonefish who someone feeds with breadcrumbs. It has unique regulation of letting people fish on even numbered years (2010, 2012) and prohibits in odd numbered years such as 2013.
3. Between Kahala and Koko Head
There are series of beach parks with flats in variety of bottom condition and you see other people going for bonefish. I had my GPS with local map that gave me very easy pin spot scouting on these parks. One I always go is Kuliouou Beach Park where you always see one or two tailing fish and dozen anglers to compete with.
Not the best spot, but I would say this place is Oahu's DIY bonefish central. Just the place you always go to meet other angler much like visiting Nervous Water fly shop for the same purpose.
On my particular visit, I saw a 10lb fish slowly cruising just off the beach giving me at least 6 shots at him. This great old fish fearless of human presence alone tells me many facts about bonefish that he just does not go for anything until he determines to feed on something. And you can tell where determined fish is by the "feed hole" it creates. As simple as that. Saltwater carp with speed.
5. What About Waikiki Beach?
This is one place absolutely off limit to anglers to protect the best of interest of amphibians coming from all over the planet whose last wish is to get hooked up by one of us. I believe there are plenty of great things in Oahu to make you happy and fly fishing is only one of them.