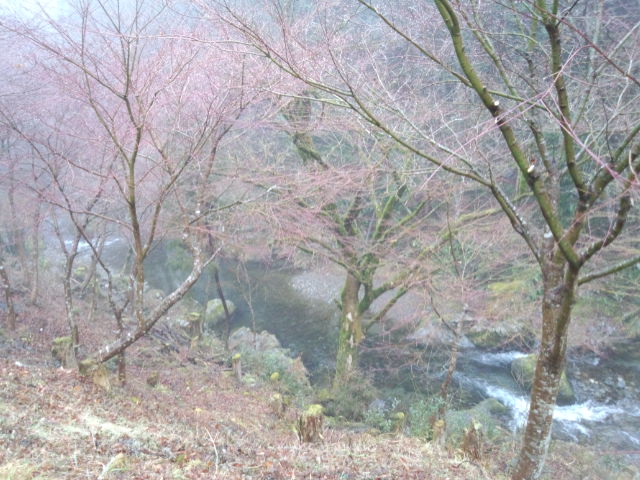 2012/3/24

Visiting Mountain Trouts – Aki River and Yozawa Fishery, Tokyo

2012 season opened with bad news of radiation spread, but that doesn't stop one from pursuing mountain jewel fish. So, I just jumped on my car still in dark.
When I arrived, North Aki River was covered in fog. Air temperature was 5C and water was 7C. Not quite as I expected, but that doesn't stop one from fishing. Nymph there it is.
First streamborn Yamame (landlocked cherry salmon)  in 2012 at last! I haven't caught streamborn trout for nearly 3 years. Bead headed midge larva given from Paul's father in law works really great. I ought to ask for recipe.
This fat yamame must be stocked fish and looked very tasty. I could have western style or eastern style cooking with this fish, but considering uncertainty of radiation, I had to release it. Shame… Beadheaded larva again.
It was too cold in North Aki River and I wanted to catch fish with dry fly. So, I moved on to Yozawa Fishery. This tributary is stocked with only rainbow trout and cherry salmon. However…
This little fish I caught looked like white-spotted char, but there is no white outline at the edge of its fin or white spots on its body. Green body, silver belly, no spots. It could be mix breed. If you have any idea, please let me know.
Later on, I caught par of brown trout. Some say there is rare streamborn
brown trout in Yozawa, but I suspect this one came from hatchery along with rainbow trout or cherry salmon.
Result on North Aki River
– Cherry salmon x 2
Result on Yozawa
– Cherry salmon x 6
– Rainbow trout x many
– Mysterious "char-like" trout x 1
– Brown trout x 1
Hit Flies
Fish had strong tendency for quick sinking nymph in the morning. In the daytime, fish moved only to super small fly or keel style dry fly as if they are wary of hook.
– Beaded headed midge larva #12 (gold bead and green bead)
– Pheasant tail nymph #12-16 with copper wire as weight
– CDC floating midge nymph #32
– CDC thorax dun – keel type #18