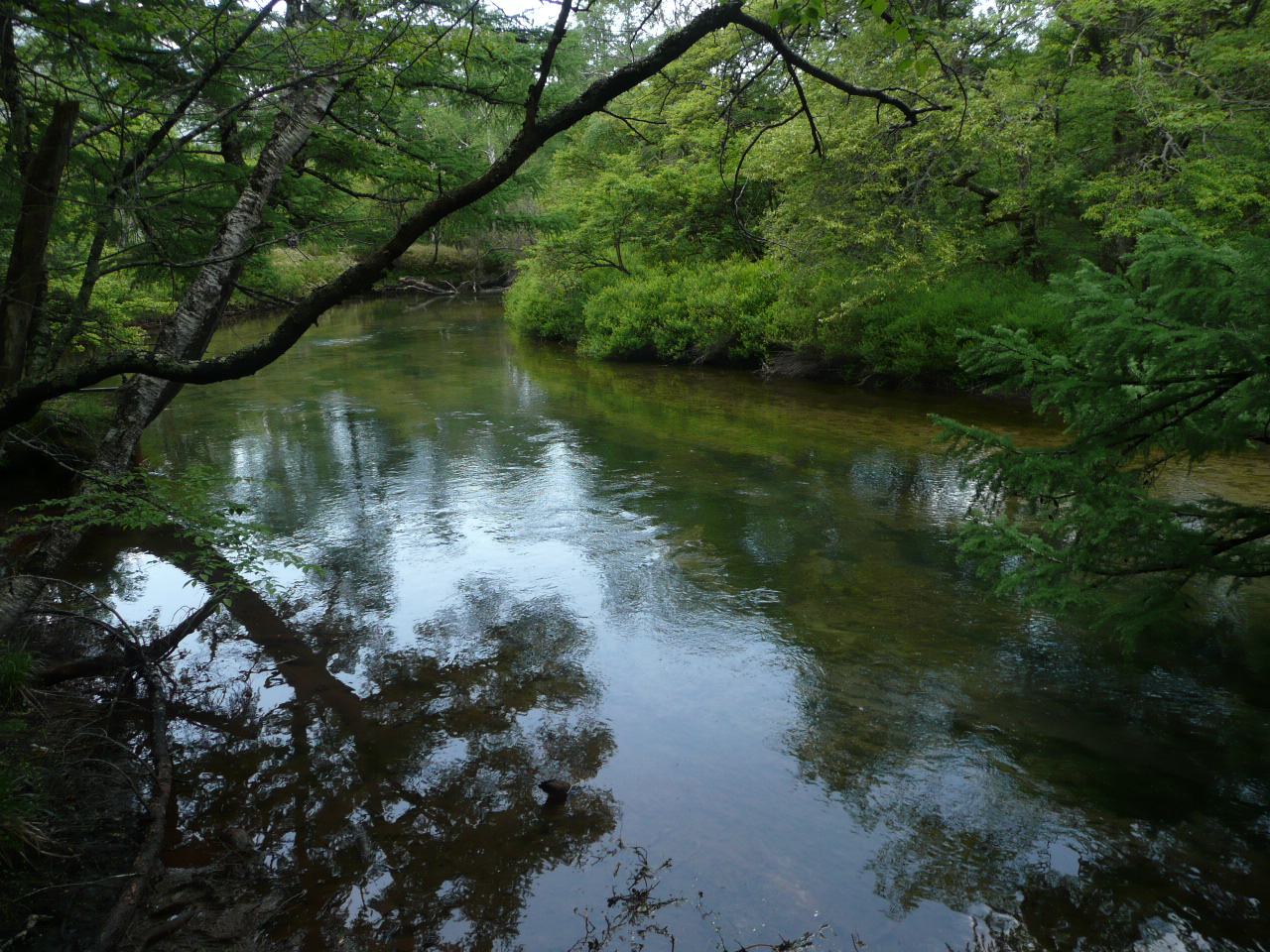 2009/6/17

Fly Fishing Pilgrimage: Day 1: Dry Fly Game at Yukawa River
I arrived at Yukawa River, backwater of Lake Chuzenji, around 7:30. Stopped by Akanuma Chaya to purchase the fishing permit then headed to the junction with my 3wt tackle. I wanted to bring my new Tiemco-Euflex 3wt for this trip, but it went back for recall. I had no choice, but stick with my Sage Fli 3wt with SharkSkin line matched on.
This actually turned out to be OK. Let's get to the point streaight.
37cm Brook Trout: Personal Rercord Breaker (Char and Brook Trout)
I started with my parachute spider #14 on the river bank around 9am. Then big shadow came afloat from the root of tree. It came and missed the first drift, then it took the big bite on the second drift. It did not give up easily. It first came closed to my net, then it jetted away which made me into ree fight. All of my fly is now tied in barbless hook, so I had to carefully keep the tention and at the same time and worry about this fast action fly rod which is not as tippet friendly comparing to my middle action 3wt rods. I also set the drag on the reel to senstive level that does not break my tippet.
It ran 3 times then finally gave itself up  as if it smelled something familiar with my old New York landing net which caught many brook trouts before. Funny thing about this char is that this is the largest brook trout I ever caught on fly (my largest brook trout was 32cm at Neversink River), but this is the largest char I caught in Japan.
I thought of record entry into IGFA Japan Segment, but I realized I have no scale or bogagrip on me. Besides, IGFA measuring requires too much handling of fish which is strongly against the best practice of catch & release. So, I took care of this fish who may grow much larger later on for my next visit. This fish is no doubt my lucky fish for this pilgrmiage, for locals don't stock this river for years. It was highly native condition fish in satisfying size caught in away game which pretty much fulfilled the objective of this trip already.
Average Size of Brook Trout on Yukawa River
What I heard from other anglers, the average size caught this year around 18-22cm which is still so much better than when I came here 2 years ago. Photograph is 21cm brookie, the smallest I caught on this day.
One More Try on Lake Chuzenji
When you feel lucky, you push on. So, before I headed for next destination, I stopped by Lake Chuzenji again to dry fly game on 6wt tackle against fish making rise rings. I casted my #14 CDC mayfly spent, but not hooking. It was already dark in which condition you wouldn't want to use midge size, but I had no choice but switched fly to #20 CDC midge adult which revealed that small rise rings were daces.
But then larger fish was bulging on the shallow side of the lake, so I switched the fly again to #18 floating nymph which hooked 23cm (est) brown trout. It wasn't hook deep enough and just before it reached the landing net, it hooke off with its strong head shake. Well… I didn't really miss this fish for special day like this!
Result and Data: Yukawa River

Game:
Brook Trout: 21-37cm 14 strikes, 9 hooks, 7 catches
Time, Light, and Weather: 9:00-16:30, mildely lighted, and showering
Tempareature: Air at 16-20C, water at 16-18C
Bait: Midge pupa, may fly dun, caddis spent, and terrestrials
Result and Data: Lake Chuzenji
Game:
Dace: 17cm dozen strikes, 1 hook, 1 catch
Brown Trout: 23cm 3 strikes, 1 hook, 0 catch
Time, Light, and Weather: 17:30-18:30, misty dark, showering to drizzling
Tempareature: Air at 18C, water at 16C
Bait: Midge adult and mayfly adult

If you'd like to know more, please click the banner below.