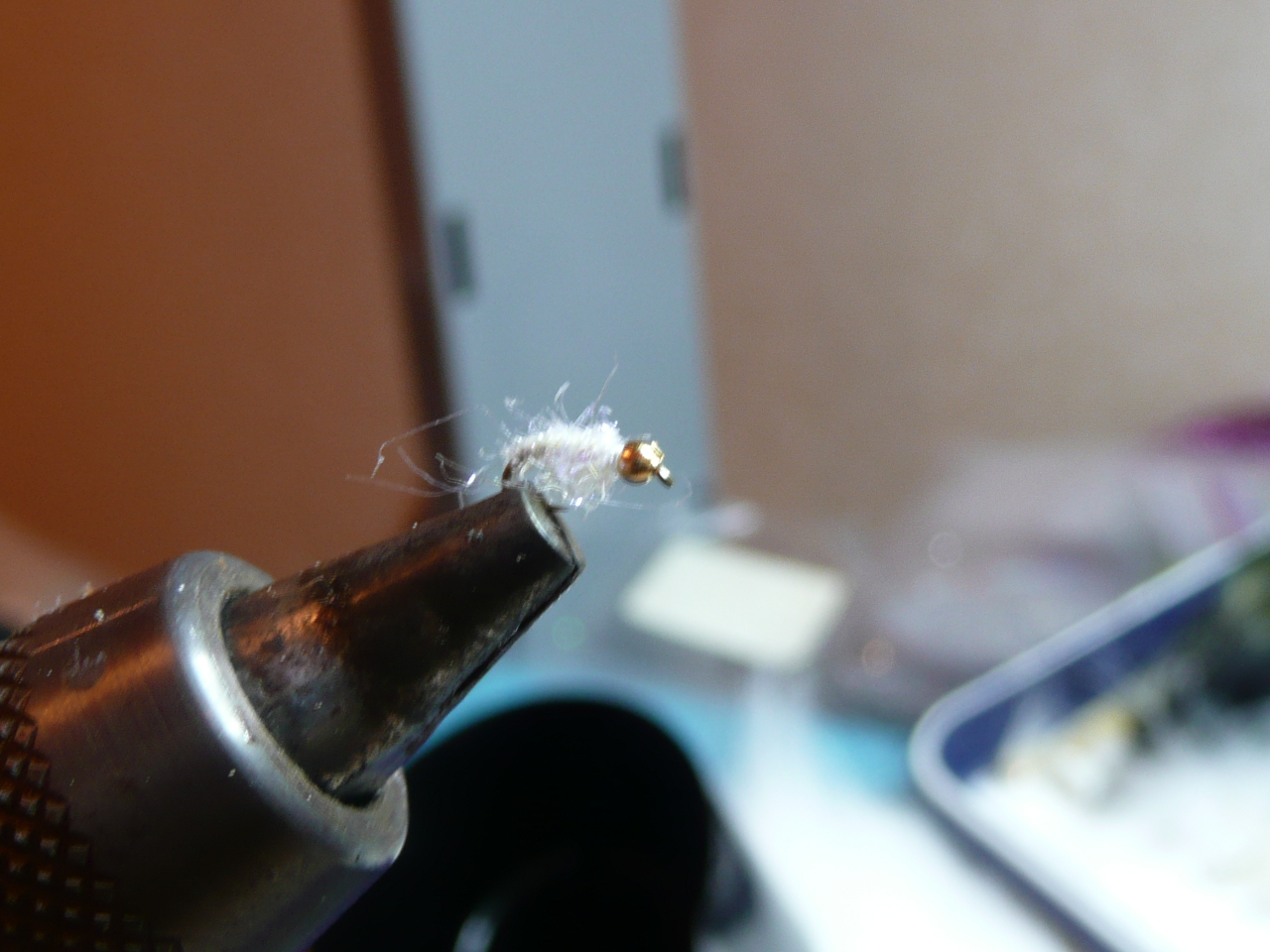 2011/6/23

Maggot Fly – Midge Nymph

There are all range of fly patterns in this world, and this pattern is the far end of all. Maggot Fly.

What a name to give to exceptionally small midge nymph. This pattern represents the basic of just how artificial fly functions. Profile is micro size crustacean or annelids, color and breathability is given by the hairy dubbing with UV pearl for high visibility to fish, and buoyancy is determined by bead head attached so that it falls at the speed to attract fish. Nothing more. Nothing less. Designed for wary or small fish who just don't suck fly with strong determination.
It starts with painful process of putting tiny gold bead onto midge size fly hook (in this photograph, TMC100 #24). I know some love this part of tying. I DO NOT. I hope someone pre-make special fly hook for this…
The rest is pretty simple. You wind the dubbing to the head of fly for whip finish. I have tried other colors for dubbing: brown, copper, olive, and orange. UV pearl white works the best.
You can fish variety of species with this pattern from trout to goby.
Bead Headed Maggot
– Hook: #18-24 (Gamakatsu hook works better than TMC100, if you could find one)
– Head: gold bead head
– Thread: white monofilament
– Dubbing: Hareline Ice Dub UV Pearl
Recommended Fly Hook for this Pattern
Gamakatsu now has "C12-BM Large Eye" hook specifically made for midge patterns with exceptionally large eye which you can tie with 4lb mono at ease.
They come in #26, #28, #30 only.
http://www.gamakatsu.co.jp/search/index.php?Act=detail&id=67215
How to Tie This Horrible Thing?
Use tippet size 5x or thinner with threader unless you are masochist.
My choice is C&F CF-604/S that is made for #32-24 patterns.
http://www.c-and-f.co.jp/c_and_f/accessories/threaders/threaders/cf_601.html