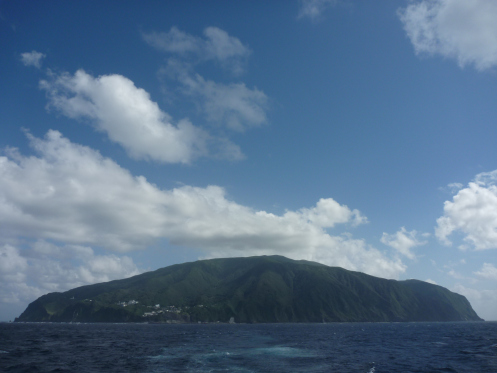 2010/11/10

Mikura Island, Izu Archipelago
Mikura Island is the southern most island of Izu Seven Islands. 200km south from Tokyo in Pacific Ocean and 19km south of neighboring Miyake Island. Black Current or Kuroshio Current runs between Miyake Island and Mikura Island which attract many traveling wildlife including trevally, tuna, and amberjacks.
There are hundred some resident wild dolphins around the island protected by Tokyo's eco tourism management.
(Image by Tokai Kisen)
Exterior of the island is surrounded by cliffs which does not allow fishing from shore with easy access. Best location is at the port and pier which forms part of Mikura Village, the only human inhabitant on the island. Most of the passage way are deep into the island where you need to be accompanied by nature guide whom you could book at Mikurajima Tourist Information.
Pier is good place to fish, but it is off limit on Thursday when cargo arrives. Huge precaution should be taken while on the pier for wind blows directly over it and wave from open ocean reaches 5-7m sometimes. Do not go in there when wet which is the indication that it's been washed by waves.

There are several other spots around the port where you could fish, but
Species
Occasional visits by bluewater fish (tuna, billfish, and sharks)
Trevally
Amberjack
Regulation
Need to have booking with lodge to be allowed to stay on Mikura Island.
No fishing from pier on Thursday. No fishing on pier when it's wet meaning there is occasional big wave coming higher than pier.
Access by Sea
Take Tokai Kisen Ferry from Takeshima Pier in Tokyo bound Mikurajima
Make internet reservation to save $$$.
Tokai Kisen Ferry
http://www.tokaikisen.co.jp/english/
Access by Air
1) Take a flight to Miyake Island
2) Take Toho Airways helicopter
Toho Airways "Tokyo Island Shuttle" Helicopter
http://www.tohoair.co.jp/shuttle/index.html
More Reference

Following is also good reading material to know the island better.
Get in touch with scuba diver's community would also give more clue.